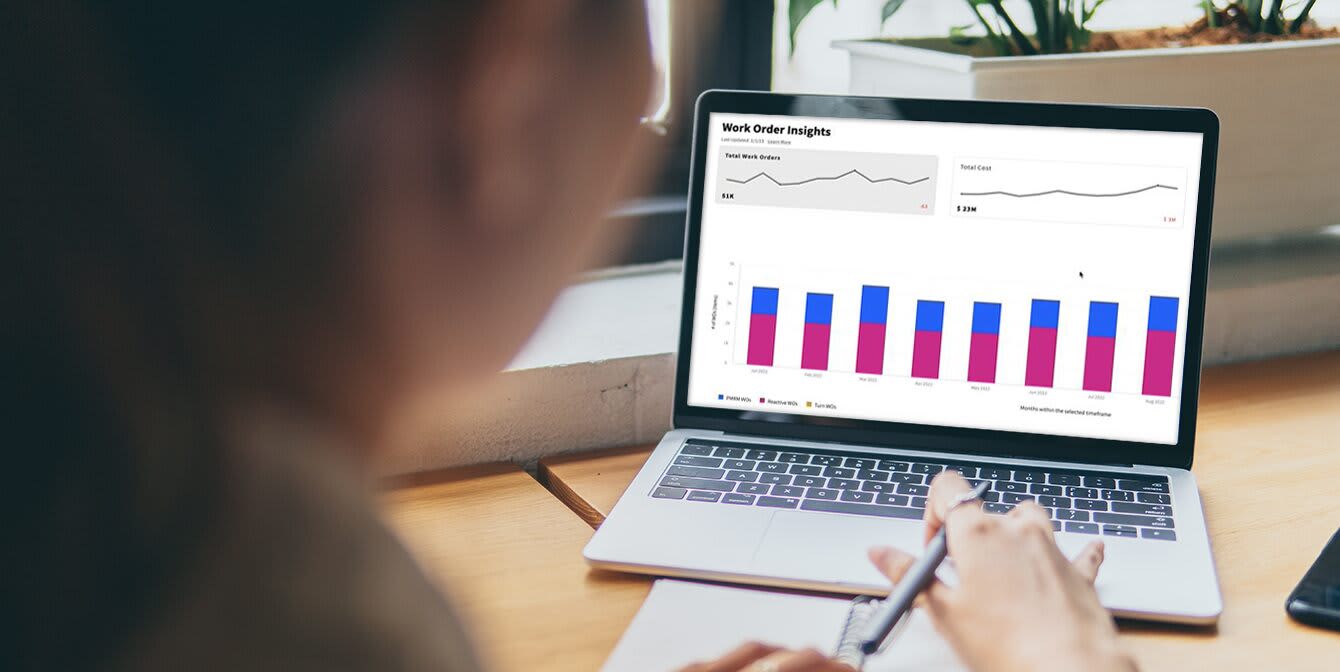 Introducing Corrigo Business Intelligence for smarter facilities management
Facilities managers rarely have all the information they need for decisions affecting work orders, service providers, or assets. Without meaningful data, facilities management (FM) decisions are often based on experience and gut instincts, which, while helpful, are often reactive, hard to quantify, and impossible to scale.
On the other hand, FM business intelligence (BI) enables data-driven decisions, deep insights, and prescriptive recommendations for better-informed decisions and scalable processes.
Introducing the new Corrigo Business Intelligence module
JLL Technologies' Corrigo, the leading software for the FM industry, just launched its Business Intelligence module to empower customers with innovative tools that boost FM performance and identify time- and cost-saving opportunities present in their own operating data.
Corrigo Business Intelligence helps facilities managers meet two tough performance metrics: uptime and budget compliance. "Our BI dashboards identify equipment needing replacement well into the future," says David Rainton, head of product for Corrigo. "That drives greater uptime, more accurate budgets, and a forward-looking mindset based on preparedness."
Behind the scenes, Corrigo's BI aggregates thousands of data points and leverages unique algorithms to unlock valuable FM insights that would be impractical—maybe impossible—for FM teams to generate on their own. These insights drive decisions that improve efficiency, reduce costs, and ensure long-term health of the business. BI delivers essential insights for:
Extending asset life and replacing aging equipment
Identifying low- and high-performing service providers by region
Creating accurate budgets and streamlined FM workflows
Optimizing operations for greater efficiency and productivity
Corrigo Business Intelligence boosts the contribution of facilities management to the larger organization and elevates the value of the FM team.
BI dashboards for faster and better decision making
BI algorithms extract, organize, analyze, and present data in easy-to-understand, visual dashboards with insights available to all FM stakeholders, including other departments like accounting and finance. Best of all, the data crunching happens automatically in the background and updates in real time with little, if any, input from FM teams.
There are three dashboards included in the Corrigo Business Intelligence module.
1. The Service Provider Insights dashboard focuses on producing two outcomes in your vendor network: improved performance and cost savings. Both give unprecedented visibility into provider networks and report essential metrics, as shown below, like first-time fix, on-time arrival, labor rates, and overall performance scores. Prescriptive recommendations identify cost-saving opportunities for renegotiating rates with current providers or replacing them altogether.
For a magnified view of the image below, right click the image and select "Open image in new tab."
In the coming years, chronic understaffing in facilities management will compel FM teams to use more third-party service providers. The dashboard helps FMs decide if it's time to make a vendor change due to cost or performance or both. Though shorthanded, FM teams become more efficient using BI to inform decisions about their providers.
2. The Asset Insights dashboard analyzes thousands of data points within the Corrigo platform, including repair histories, useful life, book values, asset age, and replacement costs for each managed asset. BI identifies equipment approaching the end of useful life and generates prescriptive recommendations for when replacement should occur to maximize uptime.
Dashboard metrics inform budgets and notify stakeholders about future capital expenditures. Readiness is an FM imperative, a critical component of team performance, and an expectation of the FM job role. Without BI, understaffed FM teams struggle to satisfy all three.
3. The Operational Insights dashboard view below focuses on internal operations and shows the performance of technicians and service providers, even comparing the effectiveness of both. Facilities managers can see the performance of their entire portfolio and identify the installations with high maintenance costs.
Metrics for work order completion times and invoice turnarounds identify inefficiencies creating bottlenecks. Removing these bottlenecks cuts costs, saves time, maintains budgets, and boosts FM performance.
Doing NTEs right
Not-to-exceed (NTE) limits for work order quotes were designed to save time and money and streamline workflows. Historically, the approach to setting NTEs relied more on educated guesses than market data and benchmarks, making the process arbitrary and inefficient.
SmartNTE, now included with the Corrigo Business Intelligence offering, uses machine learning and artificial intelligence to dynamically set NTEs benchmarked against industry data. NTE settings are flexible and can be configured for user preferences either to keep maintenance costs low or to get work orders completed quickly.
A third-party study commissioned by JLL Technologies reports SmartNTE saves an average of $1.1 million in work order spend over three years. It also reduces invoice payments by 5.23%, which, for a medium-sized FM team processing 10,000 work orders per year, would save $340,000 annually.
Discover how business intelligence drives value for FMs with Corrigo
Business intelligence is a sophisticated tool ready right now—perhaps just in time—to help understaffed FM teams achieve time and cost savings at scale and pursue greater productivity. The data from millions of work orders establishes benchmarks and fuels the insights that would otherwise be beyond the reach of FM teams.
BI data illuminates overspending and spotlights workflow bottlenecks where simple streamlining would save time to free up FM teams for higher priority work. BI delivers a bundle of benefits and raises the role of FM from cost center to value-driver.
To capture gains in efficiency and cost-savings from data-driven decisions, contact a JLLT expert about the advantages of the Corrigo Business Intelligence module.