Top property manager opportunities in commercial real estate
From the new norm of remote and hybrid work, to a strain on property teams grappling with labor shortage, to a new focus on ESG reporting and sustainability initiatives – and everything in between – commercial property managers have more to figure out than ever before.
Building Engines, a JLL company, recently partnered with the Building Owners and Managers Association International (BOMA) to survey over 130 commercial property managers. Here are some of the top property manager opportunities for this year – and beyond.
1. Streamline work order management
Work order management can often be complicated and time consuming. And as the CRE industry faces a growing talent shortage for engineers, work order management has become more difficult.
In fact, commercial property managers said in the "Property management trends & technologies for 2023" report that prioritizing and managing work has become their top priority for equipping engineers this year (40%). It's worth noting that the figure differs from last year's report, when the top priority for equipping engineers was knowledge transfer from seasoned to junior engineers.
Top 5 priorities for equipping engineers YOY

Lack of staffing resources and personnel could explain why prioritizing and managing work has become more crucial for engineers. Property managers surveyed for the report said that lack of staffing resources is their top challenge to completing work orders.
For commercial property managers working with smaller teams, technology that can help streamline and automate processes will be an important contributor to success. Streamlining work order management is especially crucial for tenant satisfaction, as property managers surveyed for the report noted faster responses to work orders as one of the most common tenant requests they get.
2. Focus on what you can control
Completing work orders promptly poses a challenge – especially as ordering parts has become more difficult (and costly) due to material shortages and supply chain issues.
Supply chain issues are affecting CRE property teams and the bottom line in several ways, including:
• Increased costs
• Delayed projects or work orders
• Difficulty in finding replacement materials or services
• Decreased tenant satisfaction due to disruptions, which could lead to attrition
Supply chain disruptions aren't something property managers can control. That's why it's important to focus on the things you can control. For instance, having a streamlined way to create purchase orders directly from work orders could be beneficial for property teams.
When purchase orders are linked to work orders and a material library, property teams can track costs and quantities for a single building or an entire portfolio. This way property managers will always know how much it costs to complete work because purchase order totals are dynamically updated based on material costs and quantities.

3. Take control of tenant comfort
Improving tenant satisfaction is one of the top commercial property manager opportunities, especially as the workplace continues to evolve.
Getting the tenant comfort equation right has always been a priority for property managers, but now it's more important than ever. It takes a lot for tenants to want to leave the comforts of their homes. And if those spaces are not comfortable for them, it puts added pressure on CRE property managers to get their buildings up to par.
And 72% of commercial property managers surveyed in the "Property management trends & technologies for 2023" said that tenant comfort issues – even simple things like the temperature being too hot or cold – are still the most common tenant request they get.
The research suggests that property managers need to find a better way to manage HVAC systems.
One solution is to implement an intelligent HVAC optimization management system that learns and monitors all HVAC equipment operations 24/7. Such a system can use artificial intelligence and data inputs to make real-time micro-adjustments to maximize tenant comfort while reducing energy consumption and costs as well as exceeding indoor air quality standards.
4. Reduce manual processes
Because many commercial property managers are grappling with issues due to labor shortage, reducing the number of manual processes will be key for success this year. Many commercial property managers are finding huge opportunities by implementing technology.
According to the "Property management trends & technologies for 2023" report, the top tech areas of focus for property managers include:
1. Building operations/equipment maintenance
2. Tenant experience
3. Energy management/sustainability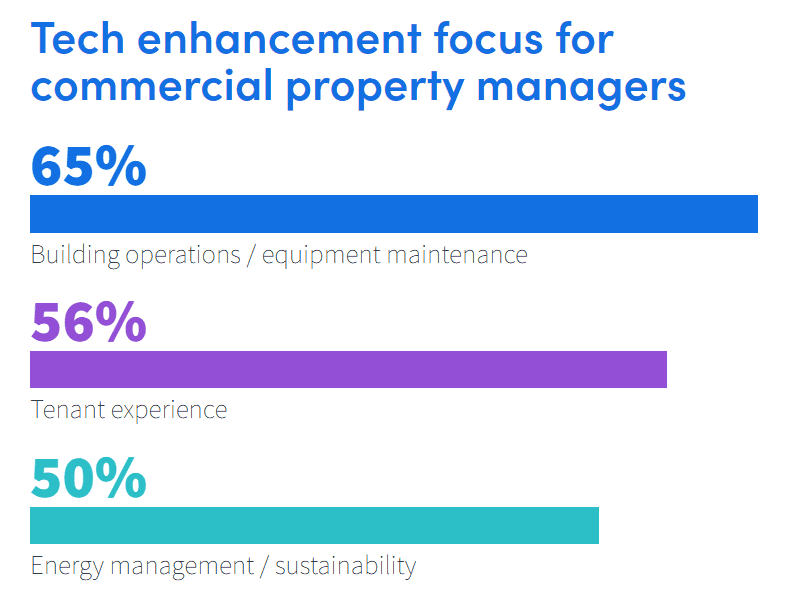 For property managers unsure of where to start, look to the following list. These are the top five areas of building operations property managers said are the most time-consuming and/or ripe for automation.
1. Certificate of insurance (COI) management
2. Tenant issue management (i.e., work orders, incidents)
3. Tenant compliance (i.e., triple-net lease, HVAC maintenance)
4. Inspections/preventive maintenance tasks
5. Energy management/carbon reduction
Do you have the right tools in place to cut manual processes and streamline operations in these areas?
Property manager opportunities in 2023
The above list represents just a handful of property manager opportunities this year. If you're a commercial property manager looking for more valuable insights and opportunities in 2023 and beyond, download the free report "Property management trends & technologies for 2023."