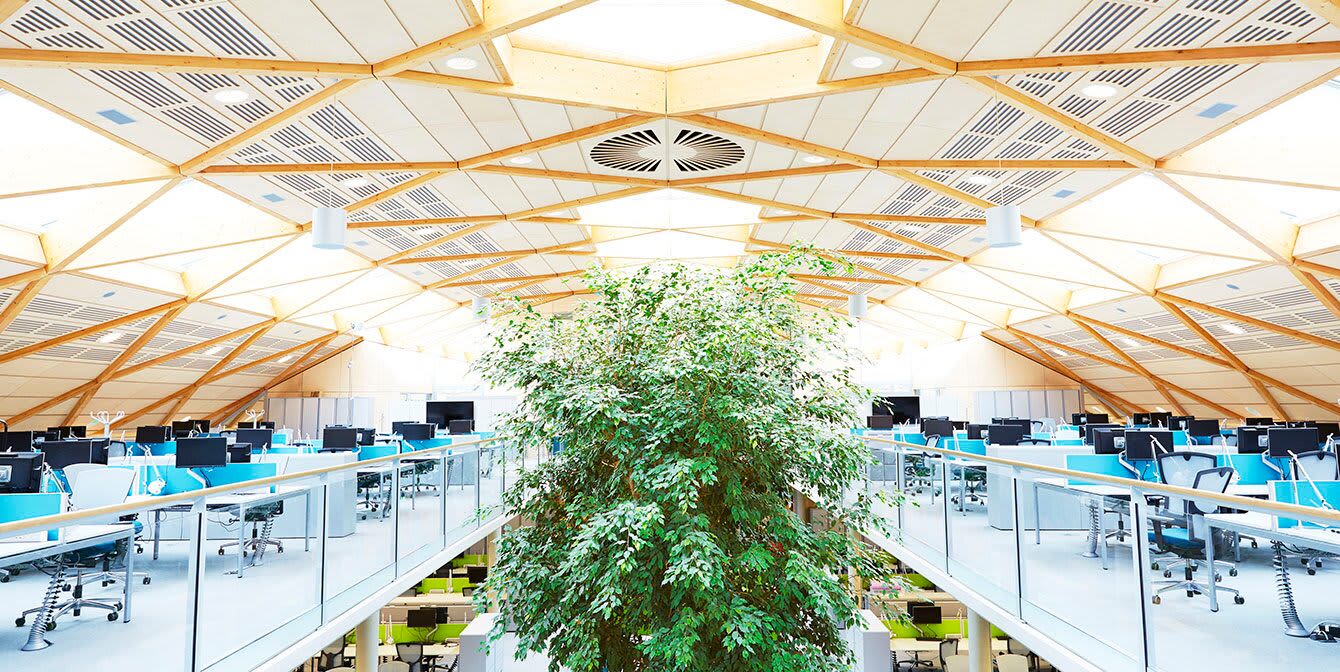 What's the ROI of HVAC optimization?
In a recent JLL Technologies webinar, commercial real estate (CRE) and sustainability experts shared trends and insights with industry professionals about how much real-world return you can achieve with smart HVAC optimization.
One often overlooked component of a successful sustainability plan is HVAC energy consumption. Facility managers or building engineers often have a set-it-and-forget-it philosophy when it comes to HVAC systems—only intervening when tenants complain about the temperature—and otherwise leaving HVAC management to the building management system (BMS).
BMSes have been the standard for decades; however, they don't offer predictive maintenance. Nor do they have AI that knows when to adjust the temperature based on occupancy patterns and the weather. Meanwhile, faulty equipment or tenant complaints typically require a visit from an engineer to address. But not all commercial offices can support a full-time engineer.
Many, if not most, regions experience weather extremes or large discrepancies/variations between the high and low temps of the day. For example, cool mornings and sunny, warm afternoons can result in outdoor temps that span 20–30 degrees. This results in frequent "comfort swings," when tenants adjust the temperature to offset the warm or cool outside temps.
Tenant priorities seem to conflict with CRE priorities, as evidenced by research the panelists shared.
Top sustainability priorities for CRE professionals:
Energy efficiency and reduced energy expenses
Water conservation/more efficient use
Green building certifications
Employee/tenant health and wellness
Smart building planning and design
Top priorities for commercial tenants:
Temperature-related tenant comfort
Upgraded tenant amenities
Faster responses to service and temperature requests
Enhanced health and safety protocols
Improved property management experience
You want your tenants to be comfortable. And you want to save energy costs and reach your sustainability metrics. It's a tough balance. Energy costs are up 1.5–2%, largely exacerbated by inflation and the European energy crisis, and HVAC systems account for 50% of total energy consumption and 20% of overall commercial real estate costs.  So you're paying more for energy now than when your buildings were full (prior to the pandemic).
In the face of these circumstances, it seems impossible to satisfy your tenants and your bean counters and be a good steward of the environment. But it's not.
What if you could spend $0 in capital costs and achieve temps with minimal deviation from the tenant setpoint—and a significant reduction in temperature-related comfort complaints? With software that's powered by AI, you can optimize your HVAC system to drastically cut energy costs, improve tenant comfort, prolong equipment life, and reduce HVAC service calls.
Sound too good to be true?
It's not—see for yourself. Watch our on-demand webinar, "The ROI of HVAC Optimization."