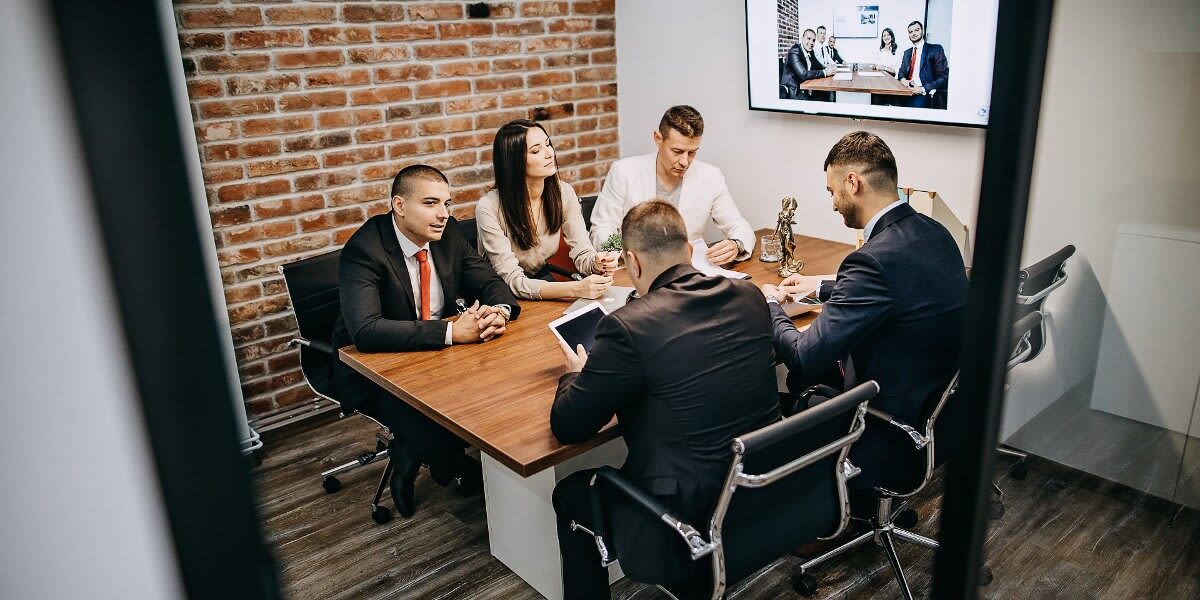 Meeting rooms need a dose of digital before they are hybrid-ready
What is the point of a meeting room? It is to enable collaboration, whether all the meeting participants are in the room or not. As the prevalence of hybrid work continues to crystallize, the existing setups of most meeting rooms are becoming obsolete. A key reason for this is because, in contrast to the pre-pandemic world, meetings are no longer mostly in-person. The National Center for Biotechnology Information expects a permanent shift in the percentage of meetings that are virtual, reaching 75% by 2024.1 Moreover, Frost & Sullivan forecast that the conferencing devices market will grow fivefold as demand for technology that enables hybrid work and greater use of small- to medium-sized conference rooms increases.2
To remain fit-for-purpose in this new reality, the concept of a meeting must be evaluated through the lens of participants, location, purpose, and space. And as part of this evaluation, an unavoidable conclusion is that physical meeting rooms must be upgraded. A survey prior to the pandemic found that 88% of the 200 respondents from UK corporate firms complained about meeting room equipment, such as AV devices for presentations.3 Meetings are a key part of the elusive 'workplace experience' through the collaboration they enable. Indeed, meeting rooms are therefore a primary location for such events. If rooms are unable to smoothly facilitate hybrid meetings, this can erode the quality of the time colleagues spend together and, by extension, their workplace engagement. This is a widespread problem, as according to market research, two in every three employees surveyed felt that using information technologies for work took more effort than it should on a weekly basis.4
Vendors to the rescue?
Naturally, software vendors have tried rushing to the rescue. Technology solutions like Microsoft Teams, Google Hangouts, Cisco WebEx, and Zoom have been rapidly updating their product menus to offer an ever-expanding range of capabilities. These include video calls, group chats, content sharing, automatic transcribing, recording, video augmentation, and whiteboarding features.  These products rely on automated processes to minimize the administrative burden on the user and enhance the productivity of the meeting experience. With most of these features rolled out during the peak of the pandemic, they were still a band-aid to an urgent need. Even prior to the pandemic, there were trailblazer firms and individuals who embraced the productivity boost from the increased use of virtual meetings. But now, such meetings have become so normal that every generation, from child to grandparent, understands what a Zoom call or a Google Hangout is.
The next big goal is to deliver equity between the in-person and virtual experience, so that both feel inclusive and immersive.
The Metaverse could be one of the emerging solutions as it provides meetings in a kind of 'hybrid+' model, where features like avatars and a shared virtual reality enable users to emulate the experience of an in-person meeting without being in proximity to each other.
Microsoft, Cisco, Zoom, and others have set up partnerships with hardware providers to make this happen. Typical hardware integrations can involve:
In-room cameras that react to sound and motion during meetings to ensure those talking are the focus of attention
Cameras can also measure meeting attendance and room utilization levels
Sophisticated, IoT-connected microphone arrays to ensure all in-person participants can be heard
Collaborative whiteboards that update online in real time
Such equipment can minimize the differences in experience between meeting participants that are in the flesh and those who are virtual. But the keyword here is 'can,' as opposed to 'will.'
What challenges should you expect?
Challenges arise when these solutions must be rolled out in practice. When organizations are planning to spruce up their meeting rooms, they typically start by:
Selecting and configuring hardware, which is time-consuming and requires a scalable deployment initiative, given that configuration alone could take between 15 minutes and an hour per room.
Taking a holistic approach to the physical design of the room to ensure lighting, acoustics, and layout are all conducive to providing an equitable experience.
Integrating the collaboration tool and the accompanying in-room hardware into other systems, such as the resource scheduler and an occupancy analytics solution.
Providing an intuitive interface that occupants can use without extensive (if any) training or orientation.
Ensuring support services for such equipment are fast, reliable, and easily obtainable as adoption of such solutions is dependent on the frictionless setup and execution of meetings
Selecting a trusted systems integrator with strong domain knowledge on how meeting room solutions interact with third-party IT systems and networks.
There are also broader operational barriers to consider:
What level of organizational effort is required to integrate all the pieces together to enable a seamless experience? Multiphase coordination and planning are required to get things up and running.
Can the project sponsor articulate how the meeting room solution processes and data fit into the wider enterprise technology stack? These will impact their value to the business, as it can involve linkages with IT networks, cybersecurity protocols, amenity services, and space planning processing, to name just a few examples.
What is the buyer's view on the issue of sunk costs? Enterprises may not know or want to consider the replacement cost of fitting in new devices and setting up scalable integrations, but this can make or break a project's long-term feasibility.
The cost of failure
Failure to overcome basic deployment challenges and broader operational barriers will end in a doomed technology project. Moreover, the cost of delaying changes to meeting rooms will exacerbate the ongoing reluctance by most staff to use office space regularly. To make more meeting rooms hybrid-ready, corporate decision-makers must act now to better understand the factors preventing them from implementing widespread upgrades to their collaboration spaces.
What to do next
Ensure IT, commercial real estate, and facilities management teams are working together to build a full picture of how to move forward with a meeting room upgrade program.
Position any ask for budget to upgrade meeting rooms as part of a broader discussion about talent management and meeting etiquette—improving the workplace experience will contribute to stronger workforce engagement.
Consider how future-proof an upgrade program is—think about future capacity for including 5G network transmission, as this will provide a faster, more stable connection to enable seamless communication during hybrid meetings.
Seek external advice and technical assistance on how to ensure meeting solutions fit more broadly into the workplace experience and collaboration rhythm—think resource scheduling, workplace analytics, and employee sentiment surveying as a starting point.
Need help? JLLT Advisory Services can guide and advise your business along every part of this journey. Our real estate and technology experts have the experience to deliver with insight and pace.
References:
Business meetings in a post-pandemic world: When and how to meet virtually (National Centre for Biotechnology Information, 2021)
State of the Global Video Conferencing Devices Market, Forecast to 2025 (Frost & Sullivan, 2021)
The Meeting Room Marathon – A Waste of Corporate Time (Casio, 2010)
Build a Better Digital Workplace Team to Enable a Hybrid Future of Work (Gartner, 2021)