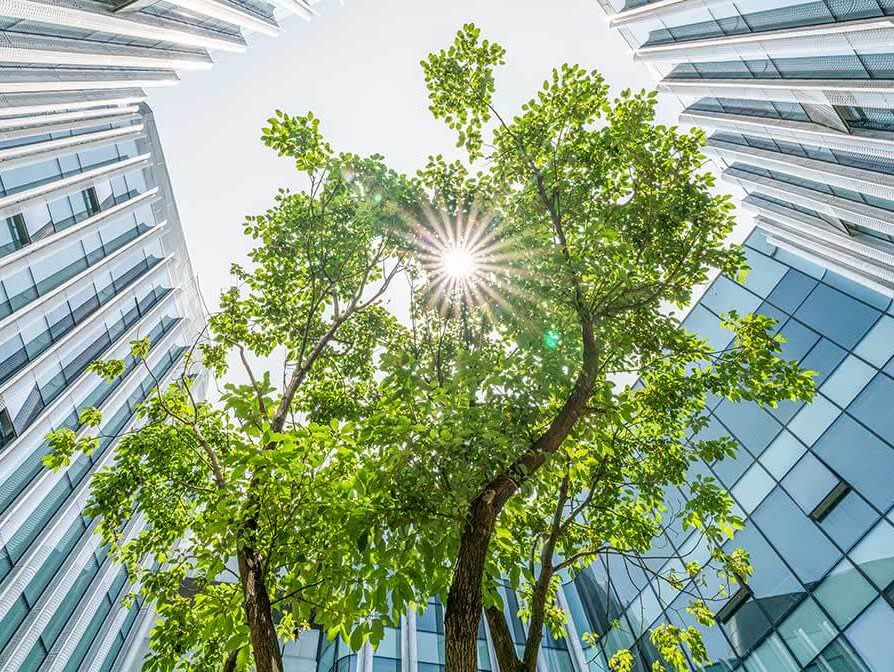 Real estate technology will save the planet
The push toward sustainability and net-zero emissions has finally gained momentum in corporate and commercial real estate. A recent Washington Post Live segment featured an interview with Ramya Ravichandar, the VP of sustainability products at JLL Technologies (JLLT). She shared some startling statistics about how commercial real estate contributes to emissions in major cities.
"Buildings are estimated by the world's Green Building Council to account for at least 40% of global carbon emissions," she said. "But in a recent JLL report on decarbonizing cities and real estate … we found that the contribution to carbon emissions was 60%. And in some cases, it was upwards of 70% in key business centers like London, Tokyo, DC, New York, and others."
Renewable energy sources like wind and solar power are a crucial part of the sustainability equation. But the quickest and most efficient way to combat climate change is by focusing on energy efficiency—consuming less energy and, thus, reducing carbon emissions.
Per the International Energy Agency, using existing technologies—such as the ones JLL Technologies offers—to reduce energy use could account for almost 50% of the emissions reduction needed to meet the goal set at the Paris climate accord. Tech can also enable your organization to meet government mandates that are becoming more and more stringent.
"The time we have to execute on these actions is rapidly shrinking. We had decades to address climate risk, and now it feels like we just have days," warned Ravichandar. "It's time to code our way out of this."
Built on a foundation of over 200 years of real estate experience, JLLT has developed various technologies and services that enable organizations to drastically reduce energy and water consumption. As a result, they save millions of dollars in operating expenses, decrease emissions and pollution, and attract the best and brightest from the worker talent pool.
While a few of the most intelligent buildings in the world were built from the ground up to be energy-efficient, the path to net-zero doesn't have to start with new construction.
"The really good news is buildings don't have to be new to implement the technologies," said Ravichandar. "So where do we go from here? How do we see buildings evolve in their adoption of smart technology and in addressing sustainability issues?
It's time to code our way out of this."
—Ramya Ravichandar, VP of sustainability products at JLL Technologies
JLLT offers innovative real estate tech you can use in existing buildings
Hank employs AI and machine-learning to autonomously control HVAC systems—maximizing comfort and energy use. In fact, Hank slashed one building's energy use by 18.9% (231,701 kilowatt hours).
VergeSense is the gold standard of occupancy sensors, as it measures "signs of life" such as a laptop bag or notepad in an otherwise empty conference room. It sends real-time occupancy alerts—so you can reduce energy use in those areas.
Infogrid measures indoor air quality and temperature changes 24/7. It also monitors water pipes and for leaks—and automatically tests for legionella, so you don't waste hundreds of gallons of water flushing pipes needlessly.
The quickest path to sustainability is through energy efficiency. And the quickest way to make your real estate more energy efficient now is with technology. Watch the on-demand WaPo Live segment to hear sustainability and real estate pros share how proptech will save the world.
Excited to find out what JLLT can do for your organization? Talk to a real estate tech expert today.