4 features your FM team needs in a CMMS right now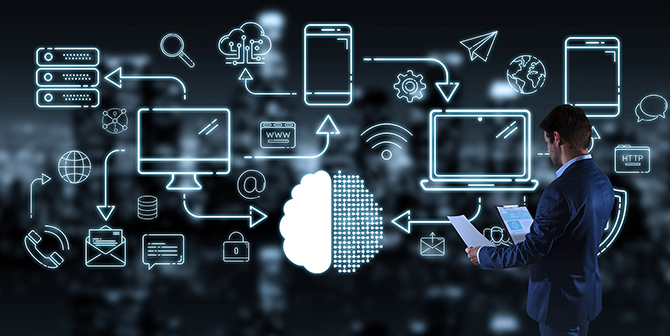 The dynamics of a transforming workplace have influenced how facilities management decision-makers approach their priorities. It's not enough to simply send work orders and manage vendors anymore.
Eliminating or improving the efficiency of tedious, time-consuming tasks has never been more important. A smart computerized maintenance management system (CMMS) is your secret weapon to empower your team, work within razor-thin margins, and navigate uncertainty.
1. Touchless work order management
A smart CMMS gives you the flexibility to minimize physical contact while staying in close communication with everyone doing the work — paperlessly.
For example:
Using GPS tracking verifies when each technician and service provider arrives and leaves. This is both more accurate and safer than signing in and out on paper. The time-stamped location data is also helpful if contact tracing is necessary.
In some environments, employees physically walk around and look for technicians or janitorial staff when help is needed. A smart CMMS instantly identifies the right person and directs them where they need to be.
A smart CMMS immediately alerts your team when things change. Successful facilities managers no longer rely on notices tacked on bulletin boards, work orders printed out on clipboards, or manually entered technician notes at the end of the day or week.
2. Flexible facilities management
When things change quickly, and the jurisdictions where you do business have varying requirements, spending hundreds of administrative hours each time you have to change course isn't an option.
Automated procedures
Automating the work orders and procedures that match the fluctuating whirlwind of requirements will save you time and reduce facility downtime. The electronic trail helps everyone stay apprised of the most recent status.
Manage preventive maintenance vs reactive work requests
Quickly and easily rebalance when priorities shift. Change work orders en masse, schedule/reschedule maintenance, and put things on hold as needed. Schedule technicians and vendors for after-hours service calls, making social distance easier to maintain. A smart CMMS makes complex work fast and easy.
Incident management
What do you do if there's a business interruption in a facility you manage? How are you protecting your people? How quickly can you reopen in response to different types of incidents? Is your communication plan ready? Are you reducing unnecessary downtime? A smart CMMS supports the dynamic nature of facilities management.
Planned projects
Projects get done faster and more consistently with a smart CMMS. The work plan is clear, scheduled, and automatically in the hands of everyone who needs it. Eliminate the stress of major changes: equipment change-outs, mass openings and closings, IT audits, safety and regulatory updates, etc.
Vendor sourcing
Locating and using qualified service providers is tough in the best of times. A smart CMMS connects you to a stable of verified, quality professionals. You don't have to randomly pick vendors and hope they're competent and honest.
3. Mobile intelligence
A fully mobile CMMS enables you accurately assess the time and costs associated with work orders. It also helps technicians in the field get to the work location — they don't have to wander around large campuses, get stuck at gates without the code, and other annoyances that slow them down.
Provide vendors and techs the information they need
Reduce truck rolls and callbacks with mobile apps that provide your team with the data they need to get the job done right on the first visit. Group messaging helps keep the team updated and allows for quick problem resolution, should an issue arise.
Repair or replace intelligently
Asset history and at-a-glance dashboards let you opt to stop fixing things when replacing them costs less. Your team needs this insight not just at the office, but when they're standing next to the equipment they're about to fix.
GPS location awareness
Knowing where the technician is while the work is performed allows you to ensure that the time you paid for was time actually spent onsite.
4. Intelligent cost control
When revenues are down, cost-control is critical. You have to manage margins that are thinner than ever. So focus on improved automation and intelligent insights to make informed spending decisions. A smart CMMS offers reporting, asset management, and electronic invoicing.
Reporting
Interactive reports allow you to easily drill into the details and identify your best options to minimize costs. Reporting can also help you take advantage of tax incentives or stimulus programs for businesses hit by the pandemic — when you categorize your expenses, providing the necessary documentation is simple.
Asset management
Managing your assets more closely and making better decisions is key to get back in the black. That means that preventive maintenance is more important than ever. Quickly implement changes across your maintenance program as you use your assets more (or less) intensively.
Electronic invoicing
Contactless approvals and paperless invoices reduce the spread of germs and COVID-19. Electronic invoices also save time and money and are an excellent way to get a strong ROI.
You're not alone
If you're considering a smart CMMS, talk to a Corrigo expert today. If you're already a Corrigo user, check out the support and training portal for more ideas and hands-on assistance.