Improve CRE utilization with these 4 workplace and space planning metrics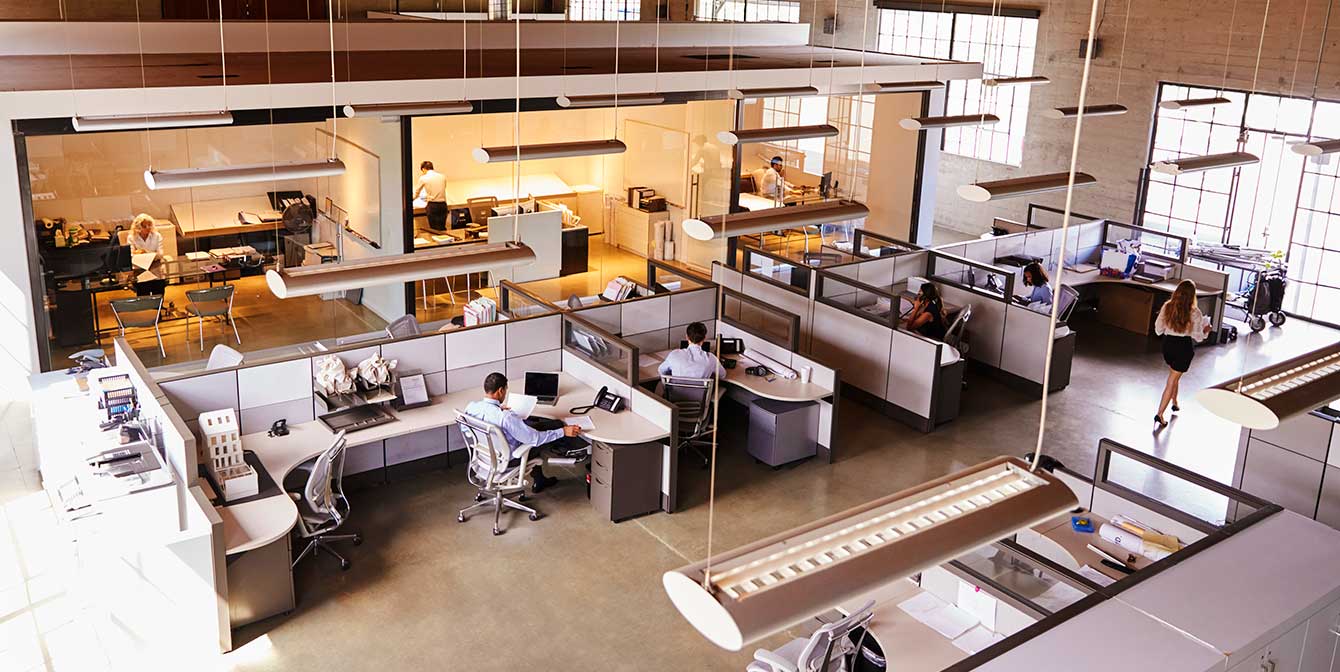 Making the most of your corporate real estate (CRE) comes down to how you use your space.
In addition to maximizing the number of people you can accommodate safely and comfortably, determining the best ways to use your square footage can also increase worker satisfaction, reduce energy costs, and boost productivity.
Workplace and space planning administrators need information they can trust as they lead the charge. From developing space forecasting strategies to balancing the space needs of all departments across your organization, their decisions have lasting effects on your people—and the bottom line.
What types of data do workplace and space planning administrators need to make your CRE space the best it can be?
Our real estate experts came up with four important workplace and space planning metrics to track.
1. Desk-sharing ratio
When Tesla employees returned to their California office recently, many discovered there were no desks for them to use. Regularly tracking your CRE desk-sharing ratio reveals the number of available desks available per employee, so you know whether you can accommodate the number of workers who come to the office.
A ratio of 1 indicates that each employee has his or her own desk. A ratio higher than 1 indicates more than one desk per employee. A ratio of less than 1 indicates fewer than one desk per employee.
This data can inform cost-saving decisions. For example, if more than one desk is available per employee, can you reduce the amount of space and the number of desks you have? Is there enough space and desks to handle the number of people the accounting team wants to hire next quarter?
2. Occupancy
How many people use the space inside your building? Occupancy and utilization data will tell you. You'll know whether you're well below expected occupancy levels or reaching maximum occupancy across your CRE portfolio. From there, you can adjust accordingly. For example, are there too few people spread out across too much space? There may be a long-term opportunity to downsize your real estate portfolio.
To support safety and well-being, you can use this information to track how many people use your spaces and compare that to how many people the spaces are designed to hold. Workplace and space planning administrators will be able to quickly tell when action may be needed to prevent over- or under-occupied spaces.
3. Space utilization
Space utilization metrics allow you to make the most of your existing real estate. They can reveal how spaces are used at any given time to determine peak utilization, who uses which spaces the most, and which locations seem to be most popular within your spaces.
Has a certain group outgrown its space? Are there unused areas that could be transformed to accommodate this overflow? Are all meeting rooms being used at capacity?
You'll know how much square footage is being used, how much is sitting idle, and which areas are used most often. Empowered with this information, you can confidently decide whether more space is necessary to support employees and business objectives—or identify underutilized areas that may be able to accommodate employees currently working in overutilized space.
Understanding how spaces are used can also help you control utilities, rent, and maintenance.
4. Scenario modeling
Your space planning team needs a way to visualize future needs. Scenario modeling metrics help you evaluate possible situations, proposed solutions, and feasibility studies—without actually having to rearrange space or invest in any changes. You can assess and compare options before a decision is made.
Map out new possibilities for offices, departments, floors, properties, and even entire portfolios to see what outcomes may result. Empowered with this information, you can proactively prepare for future needs—instead of taking a chance and realizing later you didn't achieve what you hoped.
Use metrics to make your spaces better
Improve the workplace experience and make smarter real estate decisions by leveraging the right workplace utilization and space planning data.
JLL Technologies can help you identify your space utilization goals and challenges—and then help you track metrics that will help you make the most of your CRE. Ready to talk to a real estate analytics expert? Contact us.